How Key Integrations Set QADeputy Apart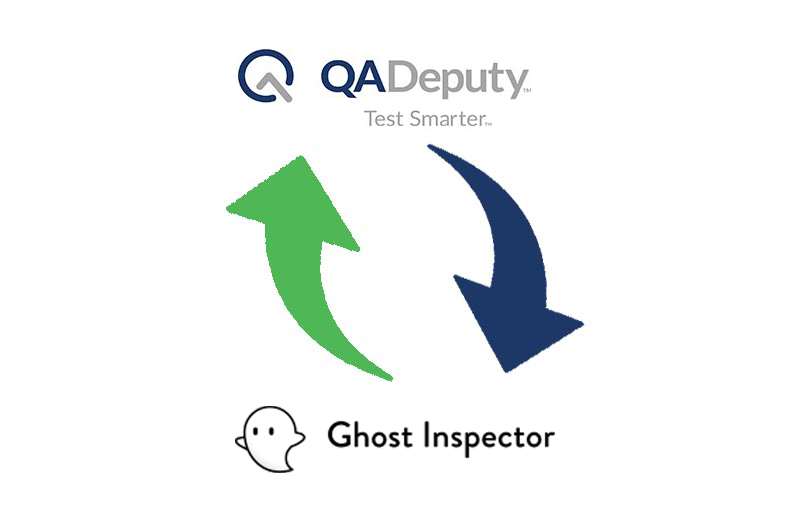 Integrations with industry disruptors like Ghost Inspector give QADeputy users an edge when it comes to streamlining their test case management process. 
System integrations are a vital component of today's QA testing environments. They boost automation, facilitate data sharing, and streamline the testing process. Plain and simple, when technology talks to each other, you will see your QA team's efficiency and productivity improve.
Of course, all the above only happens if the systems you integrate with actually provide value to your users. This is why QADeputy focuses on building integrations with solutions we KNOW make a meaningful difference in your testing processes. We integrate with leading bug tracking and communication systems that are already part of your daily testing operations (and if they aren't, they should be as we've vetted and tested them ourselves and know how great they are!).
Take our integration with Ghost Inspector for example. Ghost Inspector is a versatile testing tool that automates browser tests for websites and web applications and doesn't require coding. This means even the most non-technical users have the ability to run and check automation tests, and those who are tech-savvy, like the QADeputy users at Workwell Technologies, still save hours of time.
"Ghost Inspector has been a huge asset to our team's productivity," said Todd Mao, Workwell Technology's QA Manager. "Learning to navigate the ins and outs of browser and web app testing with traditional framework like Selenium or Cypress can take months, if not years to truly master. With Ghost Inspector, it's literally a matter of hours."
Mao expressed confidence with his team's usage of Ghost Inspector stating, "In addition to the no coding factor, Ghost Inspector offers a ton of testing features that we rely on heavily such as email and accessibility testing. It's such an easy tool to use, yet does all the complicated and intensive work we need it to do."
When looking for a test management solution that would suit their needs, Mao indicated that QADeputy was the only system they found that integrates with Ghost Inspector, making us their top choice when they signed up years ago.
"QADeputy was the only test management solution we found that integrated with Ghost Inspector," Mao said. "That made the decision easy for us."
As we noted early on in this post, integrations should add value for your users. Our integration with Ghost Inspector is a perfect case in point giving you access to this innovative and intuitive system right from within your QADeputy account. Your team can easily map test cases directly to Ghost Inspector tests and run them on demand or in bulk as part of a test run. The results are automatically piped back into QADeputy eliminating the need to access multiple platforms or manually enter data. Your Ghost Inspector data is stored and accessible from the same location as your other testing tools, which helps improve visibility, communication, productivity and efficiency. By the way, you can (and should) learn more about Ghost Inspector's browser testing service!
Our point is that system connection is crucial when it comes to managing your testing processes. QADeputy addresses this by offering turnkey integrations that are easy-to-use, easy to implement and deploy, and that are proven to automate and boost the functionality of your testing processes.
You can visit our site for more information on our integrations, or better yet – take us for a test drive and see for yourself what we're talking about! QADeputy offers a free test management trial to new customers. Sign-up today!
Happy Testing.